Join Us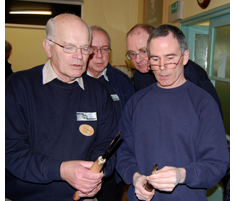 Cambridge Woodturners welcomes new members of all abilities.
The Club annual subscription is £12 for an individual aged 21 and over, £18 for a couple/family. In addition members must join the AWGB whose subscriptions are £18 for individual membership for those aged 21 or over, £28 for a couple/family (all subscriptions as at January 2016). For information about the AWGB membership contact either the Club Secretary or Treasurer at a meeting.
Junior membership of the Club and AWGB if under age 21 on 1st January of membership year is Free.
All prospective members are welcome to attend two meetings free of charge before joining.
For more information contact the Club Secretary.